&nbsp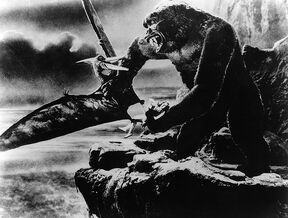 Kong is the giant gorrila from King Kong (1933) animated by Willis O'Brien.
King Kong
500000px
King Kong

Type

Status

Humaniod

Group

Beasts

Habitat

Skull Island

Size

Somewhere around 25 feet

Apperances

King Kong (1933) / King Kong (2005)

Diet

Unknown

Behavior

Kong is sometimes agressive and have an incrible rage, but has a gentle side

Weaknesses

Humankind, Tyranosaurus Rex, Other Dinosaurs, Woman, Aircrafts
Description
Edit
Kong is a large gorilla with large eyes and a terrifing face with long fangs that give a "nightmare affect". Kong has dark bown or black fur and giant hands, so big he can pick up a man.
Kong's sizes can range anywhere from 25 to even 40 ft tall.
king kong vs godzilla king kong escapes son of kong mighty joe young king kong 1933 king kong 1933 colorised version king kong 1976 king kong lives king kong 2005 and ray harryhausen favorite movie the lost world 1925 the lost world 1960
Behavior 
Edit
Kong was very agressive at first, but over time he grew to be a gentle giant (sometimes).


Community content is available under
CC-BY-SA
unless otherwise noted.