At an early age
Ray Harryhausen
began to create models of his own and developed an interest into
dinosaurs
,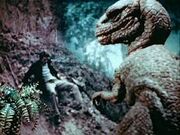 creating dinosaurs such as
stegosaurus
, which would fallow him throughout his career. After receiving
A Dinosaur Animation by Ray Harryhausen in his Early Years Added by Australopithecusman advice from Willis O'brien, Harryhausen went to art school, where he learned how to perfect his abilities in sculpting and drawing. Durring these colledge years, Harryhausen created numerous test footage with models he created.
Carnivorous Dinosaurs
Edit
Small Carnivourous Dinosaurs
Edit
Large Carnivorous Dinosaurs
Edit
Early-Herbivorous Dinosaurs
Edit
Sauropods (Long Necked Dinosaurs)
Edit
Ceratopsians
Edit
Hadrosaurs
Edit
Ankylosaurs and Stegosaurs
Edit
Bird Like Dinosaurs
Edit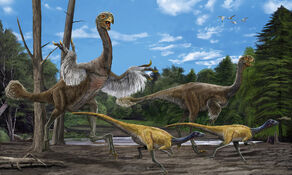 Feathered Dinosaurs
Edit
Iguanadonts
Edit
Unique Theropods
Edit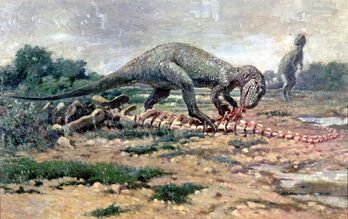 Community content is available under
CC-BY-SA
unless otherwise noted.