Naga (Snake Woman)

Naga dancer from The Seventh Voyage of Sinbad

Type

Status

Humanoid

Group

Habitat

Palaces

Size

5ft

Appearances

Weaknesses

Humans
Nagas
were snake like beings, half human and half serpentine in
Indian
Mythology. They were considered to be a strong, handsome race who can assume either human or wholly serpentine form. They are regarded as being potentially dangerous but in some ways are superior to humans. They live in an underground kingdom called
Nāga-loka
, which is filled with resplendent palaces, beautifully ornamented with precious gems. Brahmā and
Kali
are said to have relegated the Nagas to the nether regions when they became too populous on Earth and to have commanded them to bite only the truly evil or those destined to die prematurely. They are also associated with waters—rivers, lakes, seas, and wells—and are generally regarded as guardians of treasure. The female Nagas are serpent princesses of striking beauty, and the dynasties of Manipur in northeastern India, the Pallavas in southern India, and the ruling family of Funan traced their origin to the union of a human being and a Nagi.
In the Seventh Voyage of Sinbad
Edit
In The Seventh Voyage of
Sinbad
, Sinbad encounters a Naga Dancer with four arms. The Naga appears to be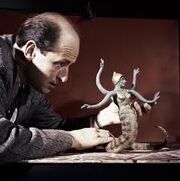 assoiated with royalty, due to its golden crown. Although Sinbad travels mostly in the Middle East, the Naga appears to be of
Indian
or South East Asian decent, because of her clothing. In the film, the Naga is just called the "Snake Woman".
Community content is available under
CC-BY-SA
unless otherwise noted.