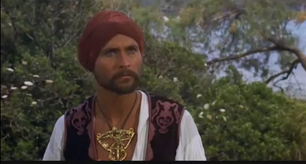 Sinbad
was a ledgendary sailor, that appeared in The
Seventh Voyage of Sinbad
,
The Golden Voyage of Sinbad
, and
Sinbad and the Eye of the Tiger
. Sinbad, featured
1001 Arabian Nights
, was a heroic sailor born in Baghdad during the middle ages. Sinbad's father dies, he set out to the seven seas to repair his fortune, and goes on seven adventures encountering supernatural creatures. Ray Harryhausen said that Sinbad was a "Personification of Adventure."
Sinbad's First Voyage
Edit
During his first voyage, Sinbad runs into Sinbad the Porter and decides to give up his wealth to become a sailor. Durring this time, Sinbad wasted all of wealth he inherited, and longer for the seas, to regain it.Sinbad encounters a dolphin, swimming island (giant fish), and other strange creatures.
Sinbad's Second Voyage
Edit
Sinbad travels on another voyage, where he encounters a giant two headed roc .
Sinbad's Third Voyage
Edit
Sinbad encounters a giant Cyclops.
Sinbad's Seventh Voyage
Edit
Cyclops
encounter to get married. This version is not the same as the version in
1001 Ara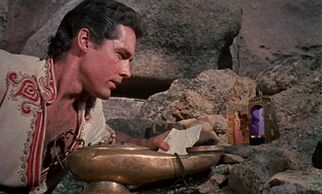 bian Nights
.
Sinbad's Golden Voyage
Edit
The evil Koura persues Sinbad for a golden tablet with a cryptic message.
Sinbad and the Eye of the Tiger
Edit
baboon
, Sinbab travels to the lost city of
Hyperborea
in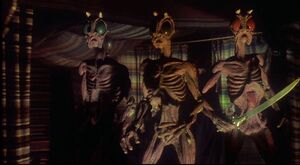 Ancient Greece
.