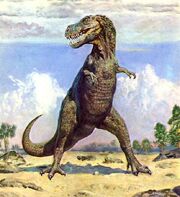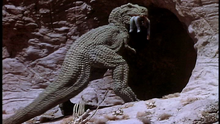 Tyrannosaurus Rex (t-rex) was a large theropod dinosaur that inhabited Western North America durring the Late Cretaceous. T-rex was popular in films from the 1940s to 1970s, before his new more accurate physical apperance in Jurrasic Park (1993).
Description
Edit
After its discovery in Hell Creek, Montana (1902), t-rex's appearce was always changing as new theroys were being introduced. The most popular theroy durring the time was the t-rex stood upward with his tail dragging on the ground, like a kangaroo. By the 1970s scientists found this to be incorrect, but stuck with it until the 1990s. Then in early twenty first century, t-rex was thought to be covered in feathers, however being a non avian theropod, t-rex was thought to be more like a cold blooded reptile, rather than a bird. Also, unti recently t-rex was thought to have its nostrils higher on its snout, like that of an eagle. This form was even included in Jurrasic Park. Now t-rex has been proven to have its norstrils closer to its mouth, making it similar to the t-rex of stop-motion.
Despite a brief controversy over whether tyrannosaurus was a hunter or a scavenger, partially healed bite marks in triceratops fossils leave no debate that this animal was an active hunter, preying on very large herbivores.
Community content is available under
CC-BY-SA
unless otherwise noted.